Promise Land Resort
|
home


Rates

ALL CABINS ARE NON-SMOKING INSIDE...ASH TRAYS PROVIDED OUTSIDE
RATES

IN SEASON

3/1~9/30

OFF SEASON

10/1~2/28

Cabin #1 One Bedroom/1 Queen Bed/Deluxe Full Futon

$68.00 1st 2 guests

$52.00

Cabin #2 One Bedroom/1 Queen Bed/Deluxe Full Futon

$68.00 1st 2 guests

$52.00

Cabin #3 One Bedroom/1 Queen Bed/Deluxe Full Futon

$68.00 1st 2 guests

$52.00

Cabin #4 Two Bedroom/1 Queen Bed/1 Full Bed 2 Bunk Beds Full on Bottom/Twin On Top

$120.00 1st 6 guests

$100.00

Cabin #5 Two Bedroom/2 Full Size Bed/Deluxe Full Futon

$95.00 1st 4 guests

$78.00

Cabin #6 Studio/2 Twins or King Bed/Deluxe Full Futon

$72.00 1st 2 guests

$56.00

Cabin #7 Two Bedroom/1 Full Size/2 Twin Beds/

1 Deluxe Full Futon

$95.00 1st 4 guests

$78.00

Cabin #8 Studio/Honeymoon/Anniversary

1 Queen Bed/ 1 Deluxe Full Futon

2 Person Heated Jacuzzi & Electric Fireplace (Has shower also)

$100.00 1st 2 guests

$90.00

Each Additional Guest $7.00 Per Day
Pets $7.00 a day per pet
Stay 7 nights and the Seventh Night is Free
Special Monthly rates October to March on Cabins call for price
24' Pontoon seats 7 with 60 HP Motor

$100.00 a day plus gas $500 a week

16' Aluminum Boat with 25 HP Motor/Trolling Motor/

battery/ fish finder/two padded swivel seats

$45.00 a day plus gas $200 a week

16' Fiberglass with 25 HPMotor electric start/Trolling Motor/ battery/fish finder/two Padded swivel seats

$45.00 a day plus gas $200 a week

All boat rentals include adult life vests free of charge. Pontoon is Daylight hours use only.
Arkansas State Law all Children 13 and under must wear a Life Vest at all times. We DO NOT SUPPLY children's life vests, you must bring your own.
Take a guided Trout Fishing or Nature/Wildlife/Photo float trip on the White or Buffalo river for 2 guests all day for $200 with any stay in one of our cabins. Does not include fishing license, soft drinks, lunch, lures and gratuity. (Reserve early as we only have 2 guides available at this price)
A third guest can go on the river trips for an additional $25.00.
Other Lodging and Guided trips available, just tell us what you would like and we will arrange it.
Sales tax will be added to all of the above prices. We do not charge for children 1 year and under. We take all major credit cards Visa, Discover and Master card.
PETS ALLOWED ON A CASE BY CASE BASIS (Please call ahead of time.....please do not assume your pet is OK)....MUST BE KEPT ON A LEASH....AND ARE NOT ALLOWED IN THE POOL AREA---PETS ARE NOT TO BE LEFT IN CABINS ALONE. -You will be responsible for all damage by any pets----- A $7 A DAY CHARGE PER PET WILL APPLY.
RESERVATION POLICY
A $100 deposit per cabin is required to hold a cabin for a stay of 2 nights or more. If no deposit is received within 10 days after a reservation is made, the reservation will be canceled. Once we reserve a cabin, it is removed from the market. Balance on all days reserved is due upon arrival. No refunds for early departures. No Shows will be charged full amount for days reserved.
Our reservation policy is intended to be fair and yet to prevent loss of income to our business. Since our location is such that we do not have a large volume of traffic past our office, we must depend heavily on advance reservation business. If a Reservation is canceled earlier than 30 days prior to the scheduled arrival date, we will refund the deposit less a $20 handling fee per cabin. Reservations canceled less than 30 days prior to arrival will be refunded only if we can fill the reservation completely.
You are responsible for any damage incurred and any excessive cleaning charges. Should we find any unusual damage or incur any excessive cleaning
after your departure you will be sent and itemized invoice and your credit card
charged appropriately.
All visitors must register at the office and a $7 per day fee may apply.
Check-In Time 3:00 PM and Check-Out Time 10:00 AM

SNOWBIRDS PLEASE CALL ABOUT OUR SPECIAL WINTER WEEKLY/ MONTHLY RATES
(Average Fall Temp. 71-82 Degrees)
(Average Winter Temp. 42-53 degrees)
(Average Spring Temp. 56-77 Degrees)
Number of Zero Degree Days 0

During the off-season, when our snowbirds are visiting, we will fire up the fireplace in our recreation room, and have a nice potluck or snack night. Everyone enjoys playing table games and of course the important part....tell tall tales and have lots of fun. There is a local community center just down the road that has monthly dinners with bingo and a monthly country breakfast too. Bringing a boat? I will show you around out on the lake the best I can so you may become familiar with the area. Come join us.....we have lots of fun!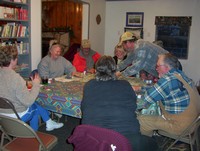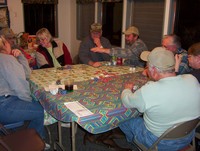 WE RESERVE THE RIGHT TO MAKE CHANGES IN RATES AND FACILITIES WITHOUT NOTICE